SEO Hero Winner
More than 200 sites took part in the SEO Hero contest. Applicants for the victory:
French team (seo-hero.tech, seo-hero.ninja, seo-hero.io etc);
beanseohero.com;
seoheronews.com;
giftedseohero.com.
According to my information, the winner is Gifted SEOHero.
Rankgins
A proxy server located in New York was used to check positions The personalized results are excluded by pws = 0.
Google New York SERP for 20:00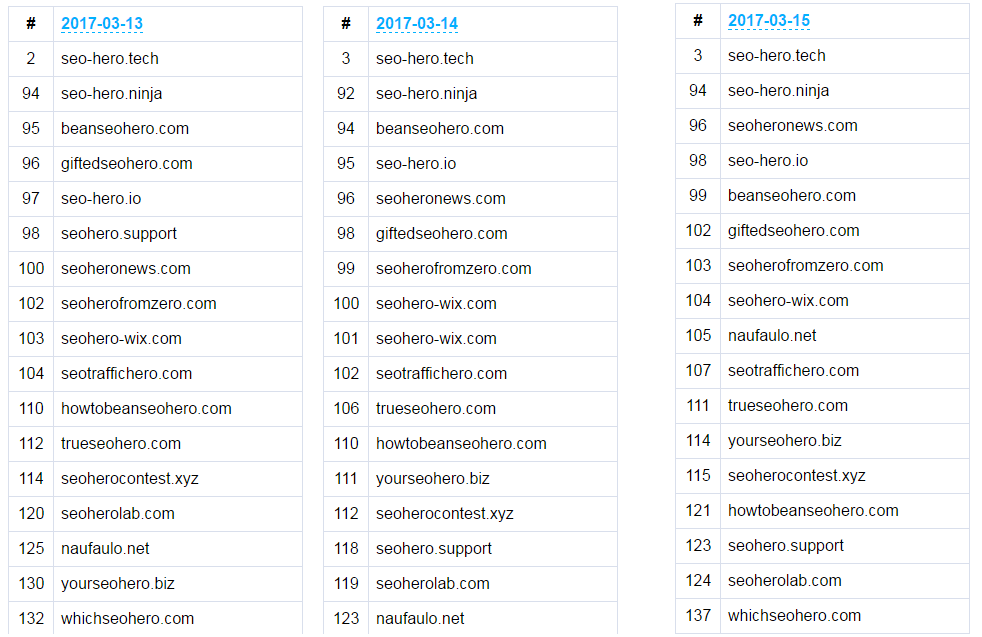 I do not know who won because I do not have data for 12:00. But, as far as I remember, in the morning Gifted SEOHero was higher than SEOHero NEWS.
More informations about SEO Hero Contest - News.
Related articles:
Be An SEO Hero
beanseohero.com has violated the rules.
4.1.5:
(viii) content that denigrates, disparages or reflects negatively on the Sponsor;
French Team
The French Team can not win because SEO Hero Cotnest is not a team competition.
If the US took part in the competition as a team, then the US Team would have more sites and they would have been winners. In this case, the competition would not make sense. Therefore, the team can not win.
There are many links confirming that the French took part as a team.
Proofs:
http://agof.fr/
http://internet-job.fr/concours-seo-hero-des-francais-dans-la-place/

http://idewan.com/lab/concours-seo-hero-4497
http://www.e-works.fr/blog/seo-hero-prochain-referenceur-francais/
http://www.innastudio.com/
http://www.agence-communication-nord.com/
http://www.colyseo.fr/
http://www.canyouseome.com/seo-pourquoi-je-ne-vois-pas-les-memes-resultats/
https://raiseupconsulting.blogspot.ru/2017/03/soutient-seo-hero.html
http://samuelhounkpe.com/856
http://www.sylvainvandewalle.fr/seo-hero-concours-seo-international-organise-wix/
http://www.lereferenceur.fr/blog/seo-hero-fin-concours-wix-approche/
http://blog.mediamiu.com/seo-hero-go-frenchies/
http://www.beetle-seo.com/seo-hero/
http://concours-seo.fr/seo-hero-wix-collabore-seo-temps-modernes-trouver-heros/
https://www.searchdatalogy.com/blog/seo-hero/
http://www.laurentbourrelly.com/blog/54570.php
https://www.jambonbuzz.com/referencement/coup-de-pouce-frenchteam-seohero-2017-02-10
https://www.loichelias.com/seo-hero-quand-le-marketing-tue-le-spirit-forthelulz
http://www.djibouteam.fr/seo-hero-concours-wix/
http://gain-de-temps.com/betises-de-referencement/seo-hero-french-team
http://www.weblog-referencement.com/2017-02-16/concours-seo-hero-par-wix/
http://www.jambonbuzz.com/referencement/coup-de-pouce-frenchteam-seohero-2017-02-10
http://www.chocokuland.info/index.php/2016/11/22/63-seo-hero-peut-etre-romantique
http://mydigitalweek.com/seo-hero-concours-de-referencement-de-google-seohero/
http://lemusclereferencement.com/
http://lavoixdebretagne.fr/2017/02/13/bretagne-soutient-seo-hero-francais/
https://www.dd-seo-hero.fr/

By the way:
The French fooprint is seen in hijacking (this was stated by the beanseohero.com owner). I found the proof. If you send the keyword 'seo-hero.tech' to Google, SERP displays a link to 'www.seoremake.com'. This is proof that seo-hero.tech use black methods of promotion;
There is a likelihood that the DDoS attack on the website seoheronews.com was conducted by the French;
seo-hero.tech did not provide the required level of access to the administrative panel (Google Analytics and Google search console) by February 16, 2017.

It does not matter whether he did it later, it had to be done at the time specified in the rules

;
seo-hero.tech violates the copyright of Time Warner, which is a violation of the rules of the competition.