Twitter was left without a technical Director and Vice-President of product
Technical Director Twitter Adam Messinger, Vice-President for product Josh McFarland announced his decision to leave the company.
Messinger joined Twitter in 2011. Before to take the post of technical Director, he worked as Vice President of development applications.
On his retirement he announced in a tweet: "After five years on Twitter I have decided to leave the company and do some break in work."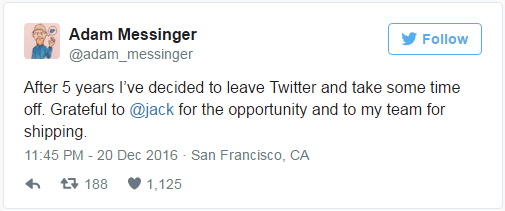 McFarland came on Twitter about 2 years ago after the company bought his startup TellApart. Vice President for the product he has held for the last 9 months. After leaving Twitter, McFarland will join the venture capital Fund Greylock Partners as an investment partner.
We will remind that in November, about his decision to leave the company said Twitter COO Adam Bain. His responsibilities will be transferred to the former CFO Anthony Noto.