Criteo: Mobile e-commerce against desktop
Consumers increasingly use mobile phones to expensive purchases. About it reported in another study by Criteo, indicating the main trends of digital commerce.
It is expected that in 2017 through mobile phones will be made more purchases of goods high price category. Once a leader among the expensive purchases was the personal computer, however, this year buyers will be as comfortable to make purchases from smartphone. It should be noted that average order value (AOV) through mobile applications in the second quarter of 2016 was 27% higher than using a personal computer (PC). In turn, AOV through a mobile browser was only 9% lower than PC in the same period.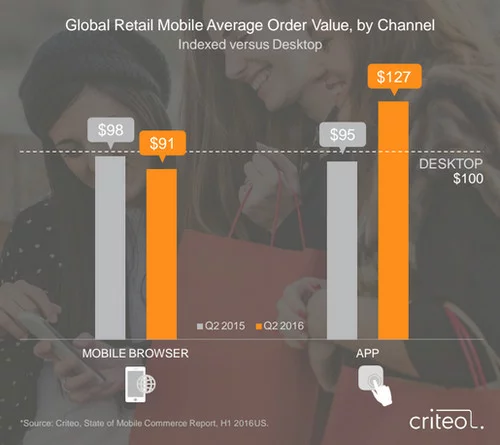 Based on this trend, retailers have to pay attention to the safety and convenience of online shopping via mobile phone. Simple site navigation and a shorter checkout process and payment will help customers to spend large sums of money with smartphones.
In 2016, 47% of retailers in the U.S. used commercial ads (Product Listing Ads or PLAs) and only 19% of conventional advertising. In this year, product listing ads will gain popularity in the market. A channel for attracting new customers stands out from conventional advertising by the presence of pictures, information on the value of the goods,and also the name of the store or company. At the moment the main provider of this type of advertising is Google, so it is expected that in 2017 it will be better to invest the retailers, at the same time in an effort to expand opportunities for improving consumer conversions.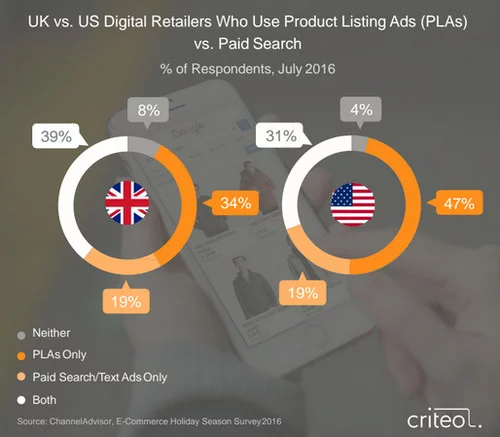 A good first step for retailers will be investing in search channels, such as Product Listing Ads (PLA), and other technologies that attract customers with information. Also strategically correct decision for companies will be the concentration on the efficiency. This is because paid search is becoming more competitive, advertisers will improve the structure of market segmentation and identification.
Developed markets are focused on mobile commerce, defining it as a key area in 2017. As evidenced by the recent Nanigans report data, in the fourth quarter of 2016 global CTR advertising on Facebook is in the category of ecommerce showed growth of 66%. Desktop advertising is still the main item of expenditure for companies operating in the field of Internet trading. However, investments in the mobile segment continues to grow. In the reporting quarter, they increased by 23 percent year-on-year.
According to statistics, the number of Facebook users entering the network from a smartphone in the last quarter of 2016, over a billion people. It is noted that the market leaders in the mobile Internet are 39% more conversions than those who are just starting to develop in this direction. To say that Asia, China in particular occupy the first place in the share of mobile sales and innovation.