MailChimp has introduced a new mobile interface
Service mailings MailChimp unveiled a completely redesigned mobile interface. The changes were intended to harmonize the design of the desktop version of the service and applications for iOS and Android, as well as facilitate the management of campaigns on the fly.
Below is an overview of the main innovations.
New tab
MailChimp mobile interface contains several tabs that help users easily navigate inside the app and find the right information. As in the desktop version of the service, it contains the sections "Overview" and "Activity". In the new version also added the tab "Explore" with personalized recommendations for your account, training tips and information about the latest updates.
Section Overview
The "Overview" tab is a map of most relevant data for the account is divided into three subsections:
E-commerce;
Audience;
Campaign engagement.
For each metric shows a graph of the performance of campaigns over the last week, month or year.
E-commerce
If the online store is connected to MailChimp, the card "E-commerce" you can see the purchase, received as a result of the campaigns.
Audience
Use Audience the users of the service will be able to track changes in the size of the audience.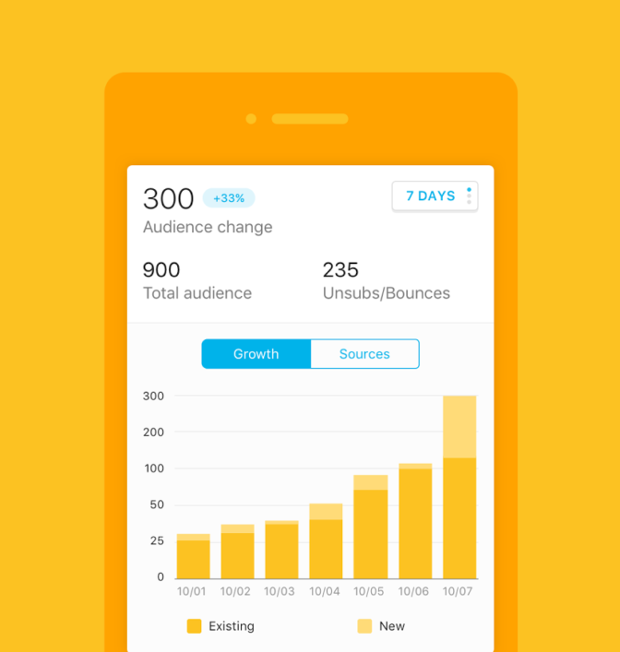 Campaign engagement
MailChimp mobile interface now also allows you to track subscriber engagement. With the card "Campaign engagement" marketers will be able to visualize and compare the effectiveness of their campaigns over time. In addition, when connecting an online store to MailChimp on this card you can see the total number of purchases through distribution.