Google graced the results for the queries associated with the winter holidays
Google has launched a new topics page of the SERPs for keywords related to the winter holidays: Christmas, Hanukkah, Kwanzaa and Festivus.
When you search for "Christmas" or "Christmas" page issuance issued in the form of snow-covered plains with Santa Claus peeping from behind the trees:

The results on demand "Kwanza" is decorated with ornaments in the upper part of the page and the animation in the form of a candlestick with burning candles:

Kwanzaa – African-American spiritual festival, which is celebrated from December 26 to January 1 each year, primarily in the United States.
Per page results for request "Hanukkah" (Jewish holiday of candles) added blue background with stars of David and an animated image in the form of a candlestick with eight candles:

Search results for request "Festives" (celebrated on 23 December) is accompanied by the symbol of this day – a metal pole.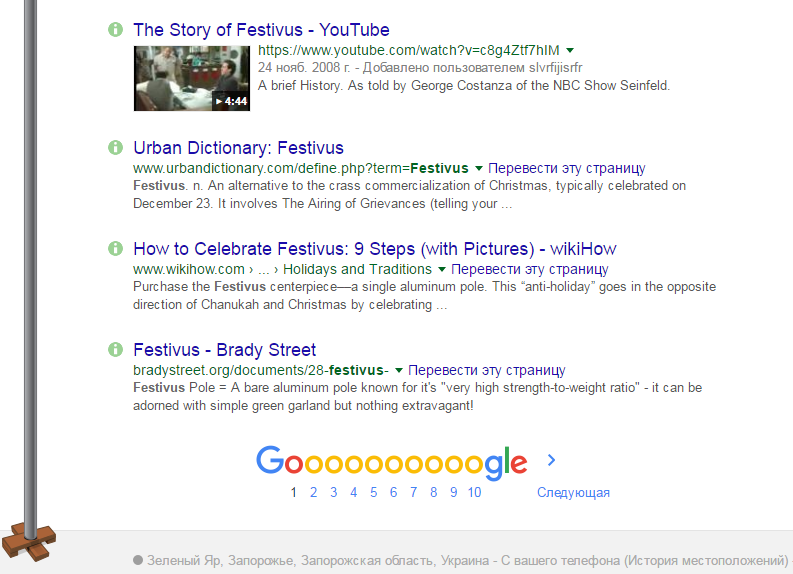 Holiday Festivus was conceived by writer Dan O'Keefe (Dan O'keefe), and later became popular in 90-e years when it was mentioned in the famous sitcom Seinfeld. His idea is to keep the feast without the stink of Commerce. The symbol of the holiday, a metal pole, – represents simplicity, in contrast to the symbol of Christmas, is an expensive Christmas tree.