Google launched Rich Cards worldwide
Google launched Rich Cards worldwide. About it reports Search Engine Roundtable.
Google introduced a new format of search results Rich Cards in may 2016. The company also added a report in the Search Console.
In search results this format is displayed as a carousel of cards with pictures of high quality. Rich Cards using semantic markup Schema.org.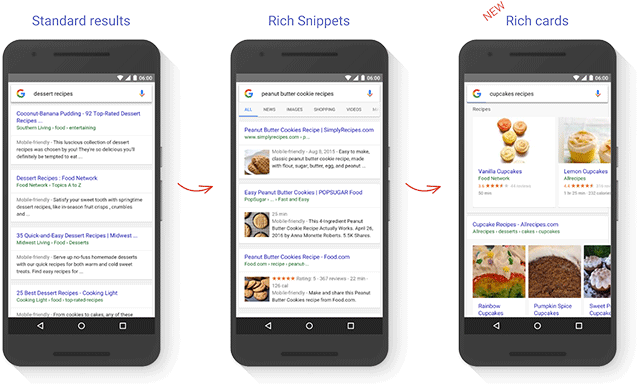 Initially advanced card was launched in search results in the US, then they appeared in other English-speaking countries. Now they are available ащк everyone.
"In 2016, we launched rich cards in the US, creating a new way for site owners to present previews of their content on the Search results page. Starting today, sites all over the world can now build rich cards across Google Search.", — stated in the Google blog.
Rich Cards documentation can be found on the developers site.
A the time of starting Rich Cards was only available for sites with recipes and movie sites. In November 2016, Google updated the documentation for the markup and adding support for two new types of Rich Cards: online courses and local restaurants.