Google warns about HTTPS for sites which not support secure protocol
January 20 2017, Google began sending notifications to sites via Search Console in which webmasters are required in the shortest possible time to transfer pages on secure protocol, otherwise they will be marked in the Chrome browser (version 56 or later) as unsafe.
Since January of 2017 page on which you are not using the HTTPS Protocol and collect credit card data or passwords, will be marked in the Chrome browser version 56 or later as unsafe.

Below listed are the URLs in your sites that will display with unsafe warning as they are collect data about credit card data and passwords. Check out these pages and take the necessary measures to protect users. Please note that this list may be incomplete".
A screenshot of the notification: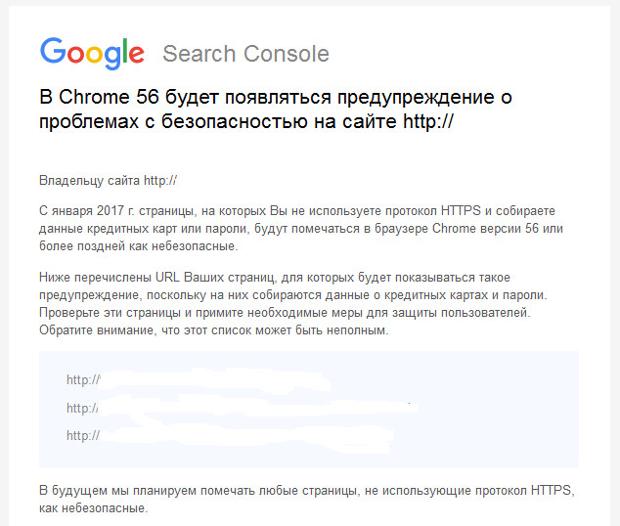 The fact that Google is seriously care about of security of users and begin to mark unsafe page in Chrome, it became known in September 2016. However, webmasters, optimizators were confident that these measures will affect only to sites which collect credit card information. However, unsafe mark will affect any pages containing the form username/password, and sometimes even the social media buttons.
Recall that Google start began sending similar warnings using Search Console in 28 Dec 2016. The reports said that the collection of passwords over an insecure connection will affect warnings for your website in Chrome version 56 or later.