Searchmetrics: the main ranking factors in Google in 2016
The company SearchMetrics presented the results of research of influence of various factors on the ranking of websites in Google for the year 2016. The main conclusion of the report is that the importance of links is reduced, and the content is growing.
Below the main findings of the study:
The URL with the highest relevance of content occupy positions 3-6.
The desktop content is almost three times longer than mobile.
In 2016, only 53% of the URL of the top-20 included the key words in the title.
The average time on the website for the top 10 URLS is 3 min and 10 sec.
The average bounce rate for the URL on the first page of search results is 46%.
The average CTR of an URL in positions 1-3 equal to 36%.
Almost half of all pages in the top 10 uses the HTTPS Protocol.
86% of the top 10 domains that use the TLD .com.
mar
The size of the pages that are ranked in mobile search, almost three times less than their desktop equivalents.
Mobile pages load about 1 second faster than desktop.
All domains are in the top 100 apparently, there is a mobile-friendly solution for smartphone users. Beyond the rating, the figure is about 78%.
In 2016, was recorded a notable increase in the use of structured elements like bulleted lists that improve UX.
The correlation between social signals and rankings in Google remained the same.
Links now is only one of many factors influencing the ranking. The correlation between incoming links and positions in the search results remains high, but the importance of links continues to decline.
Earlier this year a study by Stone Temple Consulting showed that the links remain the critical factor in the Google ranking. In Searchmetrics agree with this conclusion, but note that the importance of links has decreased.
"In the past year, Google has started to use machine learning and AI, such as RankBrain, to better understand the intent behind the user query and improve the relevance of search results. Behavioral cues, such as frequency of clicks on links in search results and the time people spend on the page, helping search engine to understand how well it answers the user's questions. This allows it to continuously improve relevance," said Searchmetrics founder Marcus Tober.
The diagrams below show a breakdown of the main factors in correlation with the position in the ranking. If the arrow points upwards, it means that the importance factor is increased; the right – remained at the same level; down, decreased; "*" indicates that the factor began to be taken into account for the first time.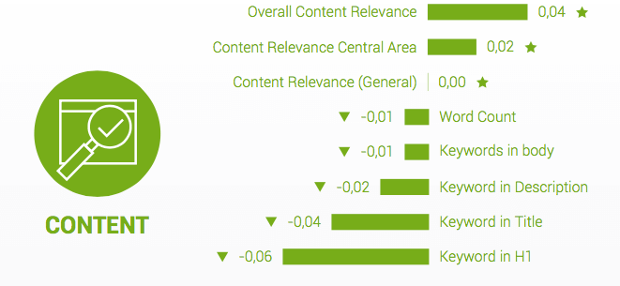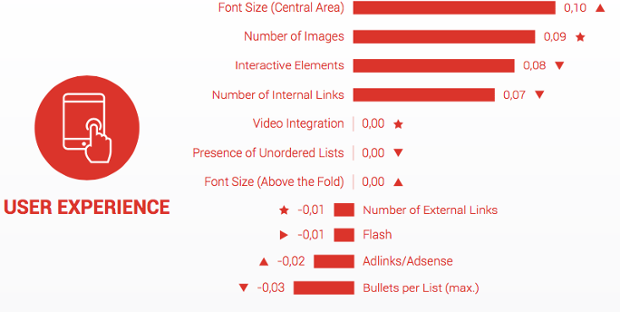 The study analyzed the top 20 results of 10 thousand key words in Google.com.