Google is the leader in the search advertising market, Facebook - the leader in the market of display advertising
In 2017, Google will occupy the 77.8% of search advertising market in the United States. In 2018, the company's share will reach 80%. The remaining 20% will be distributed between Microsoft, Yahoo, Yelp, Amazon, Ask and AOL. About it reported in a new eMarketer forecast.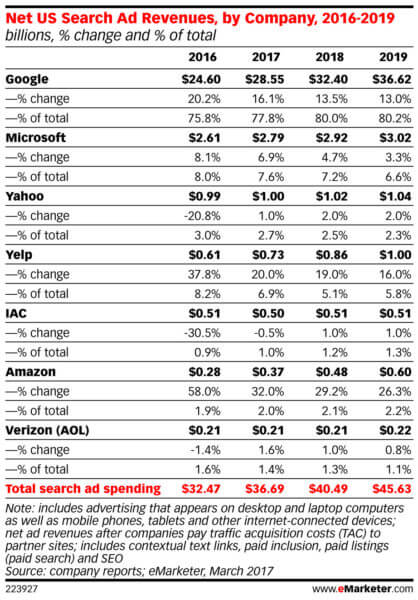 According to analysts, in the next three years spending on search advertising in the U.S. will grow by 24% – from $36,69 billion in 2017 to $45,63 billion in 2019.
Yelp and Amazon in this period will demonstrate the highest rates of income growth. Yahoo's revenue will grow at a negligible rate, at the level of 1-2%.
The dominant position of Google in the market search, especially mobile search, is dictated by the growing popularity of smartphones as a means to search for everything from the specifications of the goods and ending with the map. Google and mobile search as a whole will continue to benefit from this shift in the behavior of the users," notes eMarketer analyst Monica Peart.
At the time, as Google is the leader in search, Facebook holds a dominant position on the market of media advertising in the United States. In 2017, the company's share in this segment will reach 39.1 per cent (growth of 32.1%) — $16,33 billion.
Growth drivers are the expansion of the Facebook audience the social network, as well as increase the amount of time that users spend on it. The growth of these indicators attractive to advertisers.
The share of Instagram this year will account for 20% of Facebook revenue from mobile advertising. Last year this figure was 15%.
Google's revenues from display advertising in 2017 will increase by $5,24 billion, but the company's share in this market will be reduced to 12.5%.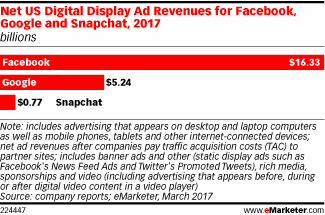 "Facebook users increasingly interact with video, not only in Facebook but also in Instagram. Video as live and recorded – is a key driver of growth in user engagement and enthusiasm of advertisers," — noted in eMarketer.