Google does not use Chrome data for identifying the new URL
Stone Temple Consulting agency shared the results of a new research. It was intended to find out whether the data Google Chrome browser to identify the new URL.
In anticipation of the research results Rand Fishkin from Moz posted on Twitter the following poll:
do you think search engine Google Chrome uses the data to detect and crawl web pages?"
69% of respondents answered:
Yes, of course", 19% – "Yes, when a sufficient amount of traffic"
In total, the vote was attended by 848 people.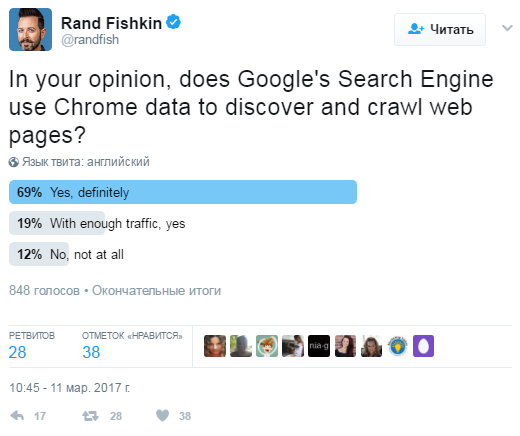 The research methodology was simple. At Stone Temple Consulting have created a couple of pages, which Google didn't know. Then the people who took part in the experiment, visited URLs using the browser Chrome. It was assumed that after that Googlebot will crawl the pages viewed to fully scan their contents, but that never happened.
CEO of Stone Temple Consulting Eric Enge commented on the results obtained:
"Googlebot had not visited these pages... It's amazing. Google has access to a huge array of data from Chrome, and it's hard to believe that they really are not used one way or another".
As it turned out, the two participants of the experiment have disabled extensions in Chrome. This led to visits to the pages from Open Site Explorer and Yandex. What plugins were installed is not specified.