Facebook began testing the ad format mid-roll in the usual
Facebook has expanded access to mid-roll advertising in live broadcasts for a growing number of content creators in the United States. The company also started test the so-called advertising breaks in the usual, reports Marketing Land.
Facebook began testing video ads format mid-roll in live broadcasts in August 2016. Currently, add commercial breaks in the live videos can all owners of the public pages and profiles in the United States with the number of subscribers to at least 2000. If the page or profile has been found in violation of the intellectual property rights, they will not be able to add in broadcast commercial break.
Ad will appear after a minimum of 4 minutes after the start of the broadcast if that the number of spectators in excess of 300. Next an ad break can be added no earlier than 5 minutes after the previous one.
Once the requirements are met for the duration of the video and the number of spectators, the author of the broadcast will be able to click on the icon $ and start commercial break.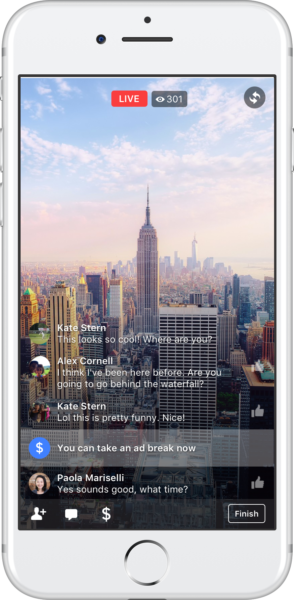 Advertising breaks will last no more than 20 seconds. The duration of the clip will be 15 seconds. The remaining 5 seconds is designed to ensure that the author informed the audience about the pause on advertising.
As for testing mid-roll advertising in a conventional video, it is at an early stage. Access to it got limited number of publishers in the United States. While Facebook does not provide advertisers with accurate information about where their video is shown.
Companies can use standard targeting options to select audience for display advertising. However, they cannot indicate specific publishers or videos that they would like to get their advertising. However, they can prevent showing ads for certain content categories: adult content, tragedy, conflict and social problems.
In addition, Facebook has also opened up access to the video advertising format in-stream all publishers that use Facebook Audience Network.
That Facebook is working for launching advertising format mid-roll in the normal video, it became known in January of this year.