Messenger Day by Facebook
The Facebook Messenger team announced Messenger Day, is a new way to share their videos and photos.
Now, using the capabilities of the built-in camera in Messenger users can add photos and videos in Day and share moments of life with everyone, or choose specific family members or friends who will be able to view messages and reply to them within 24 hours.
Messenger Day is:
Fast camera is always available by one touch;
Lots of special effects allows before adding photos and videos to personalize them, decorate one of the 5000 frames, emoticons or stickers;
Audience setup. After create the videos or photos you can send them to a few friends, best friend or several groups
The opportunity to share their Day, which button appears at the top of the main window of the messenger, and to control who can view Messenger Day tape.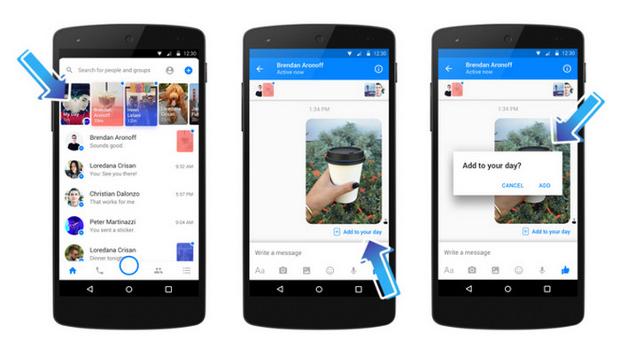 This innovation is analogous to the self-deleting posts, the principle of which was borrowed many social networks from messenger Snapchat. Full copy this feature already has been implemented by developers Facebook in the Facebook social network and its affiliated services WhatsApp and Instagram. In late 2016 also self-deleting publication appeared in VK.
Facebook Messenger with the new feature is already available for download in App Store and Google Play in the USA. Later, the social network promises to launch a option Messenger Day for all.