0 days 0 hrs 0 mins 0 secs
Google Policy Violation - Conflict of interest
Google My Business policy:
Conflict of interest: Reviews are most valuable when they are honest and unbiased. If you own or work at a place, please don't review your own business or employer. Don't offer or accept money, products, or services to write reviews for a business or to write negative reviews about a competitor. If you're a business owner, don't set up review stations or kiosks at your place of business just to ask for reviews written at your place of business.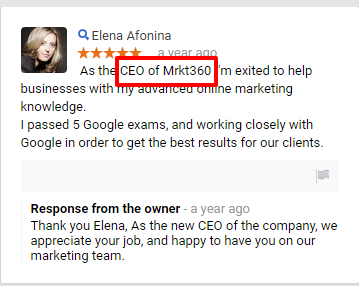 Google Policy Violation - Whole name thing
Google My Business policy:
Service or product information about your business, unless this information is part of its real world representation or this information is needed to identify a department within a business (see "Departments"). Service information is best represented by categories (see "Categories").

Location information, such as neighborhood, city, or street name, unless it is part of the real-world representation of the business. Your name must not include street address or direction information.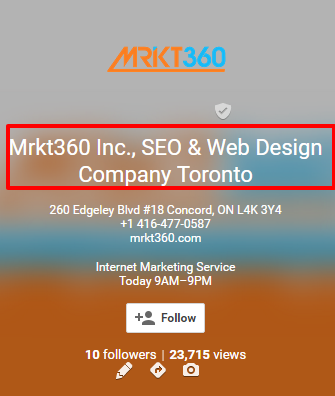 Wix SEO Hero Competition Judge
Responsible for reviewing, at his sole discretion, any and all Hero Website he chooses, for non-compliance with the Guidelines and the terms of the the SEO contest sponsored and held by Wix.com, Ltd. The role includes monitoring to ensure no one uses unethical SEO techniques, and determining at his sole discretion the winner of the competition.
More information about
Wix Contest
Skills
Lead Generation
SEO
PPC
Entrepreneurship
Marketing
SEM
Google Adwords
Online Advertising
New Business Development
Social Media Marketing
Mobile Marketing
Email Marketing
Sales
Online Marketing
Digital Marketing
Marketing Strategy
Google Analytics
E-commerce
Direct Sales
Web Analytics
B2B
Account Management
Advertising
Sales Management
Web Marketing
Marketing Research
International Sales
CRM
Marketing Management
Social Networking
Keyword Research
Organic Search
Management
Social Media
Business Development
Strategic Partnerships
Salesforce.com
Call Center Development
Customer Retention
Digital Strategy
Mobile Advertising
Call center start-up
Advertising Sales
Digital Media
Affiliate Marketing
Direct Marketing
Search Advertising
Google Business View
Google Partners
Google Media Partners
Social
Zeev Cozocaru
Вице-президент в ‎מנהל פיתוח עיסקי‎

Alex Bider
Digital Internet Marketing Consultant в 2Marketing SEO & Web Design

Elena Serebryany
Работает в Self-Employed

Kari Gleicher
UWO

Sharon Bider
General manager в KYD

Dror Gik

Haim Goldenberg
Собственность в Haim Goldenberg - Real Life Mentalist

Ofir Gik
Seneca

Udi Hurvitz

Simon Rom
York University

Meir Osipov
Собственность в Self Emploed Business

Yoav Flatto-Sharon

Jeff Cohen
Senior Consultant в GDL Solutions Inc

Katya Hurvitz
Торонто

Rachella Ivri
האקדמית גליל מערבי

Ilona Milano
הקריה האקדמית אונו

Joe Ontman
Director of Sales в AcuityAds Inc.

Guidy Mamann
Senior Partner в Mamann, Sandaluk & Kingwell | Immigration Lawyers

Gil Blutrich
Торонто

Etay Zur
Работает в Self-Employed

Catherine Elise Cortez
Owner/Consultant в MADxpts

Ellie Schneider

Chaim Hildeshaim
Rabbi / Director в Chabad Thornhill Woods

Tamara Aminov
Йоркский университет

Henry Hua
Humber

Pascal Flamand
HEC Montreal

Zvika Rahmilov
Vaughan Secondary School

Anan Habka

שלומית סייג
Бней-Брак

Chaimon Blumenfeld
‎מנכ"ל‎ в ‎שערי תקווה - העמוד הרישמי‎

Ziv Reshef
Partner в ‎רוקדים עם הילדים‎

Mark Soer

Orit Mossinson
Managing Partner & Israeli office CEO в Dalai VC

Oleg Babitch

Eyal Badichi
Работает в Self-Employed

Talia Friedman
Managing Director в Fidelis Holdings

עפר הורביץ
אורט סינגלובסקי

Darren Gradus
Ayelon hulon

Ehud Telem
President and CEO в Peerless Travel Uniglobe

Kirill Kanevsky
Team Manager "Real Estate Navigators" в Re/Max Realtron Realty Inc.

Josh Schneider
Co-Founder & CEO в GlowClicks

Ohad Horvitz
Gerente general в ‎סבידה savida‎

Diana Azbel
Школа № 247

Marianna Kogan
Торонтский университет

Shay Hurvitz
Работает в ‎חשמלציה‎

Sima Hurvitz

Yuval Lambert
John Bryce

Shahaf Merhav
Рамат-ха-Шарон

Lucas Giraldo
Entrepreneur в Self-Employed

אורן צוקרמן
‎שף‎ в Self-Employed

Arik Ariel Lilaev
Lawyer в Law Office

Mehdi Kazemian
Монреаль

Eitan Rachlis
Торонто

Odelya Horesh Shimoni
Seminar hakibutzim

Russlan Chalmiev
Торонто

Gilboa Azaria
המרכז הבינתחומי הרצליה - IDC Herzliya

Dror Panhi
Работает в Ceragon Networks Ltd.

Kevin Rusnell
Digital Consultant в DIG - Digital Intelligence Group

Anna Curlat-Rozenberg
SEO Expert в 80 Proof Digital

Alex Dudarev
Thornhill, Ontario

Yana Mednik
Registered nurse в Skin Care Clinic

Milky Faruq
Собственность в MaestroPrint.com

Ronit Warger
Toronto School of Business

Ron Binder
Vaughan Secondary School

Rom Koubi
Thornhill, Ontario

Dana Azulay

משה רווח
‎ממלא מקום ראש העיר ומחזיק תיק הספורט ותיק התרבות‎ в ‎חבר מועצת העיר רמת-גן‎

Scott Wilson
Берлингтон (Онтарио)

Sunny Ashurov
Торонто

Lior Cohen
Собственность в Self-Employed

David Zaltzman

Марсель Хакими
American Dubai

Olga Kanevsky
Работает в Kanevsky Law Office

Tatiana Dudyez
Business Coach, Power Strategist, Radiance Catalyst в Tatiana Dudyez Inc.

Valerie Dalal

Adi Yosef
Работает в Self-Employed

Muhammed Moid Iqbal
George Brown College

Jeremy Easterbrook
Conseiller en Stratégies Numériques, Fondateur в Index Web Marketing

Igor Keselman
COO в Marktech Sevices

Zack Schwartzberg
Business Services Sales Representative в RE/MAX West Realty Inc., Brokerage

Avi Ked

Vadim Zakarev

Erez Zevulunov
Taste Tester в Food Review

Yuval Harpaz
Tustin, California

Ekaterina Vendrova
Работает в Insurance Supermarket Inc.

Shira Schaffer
Hebrew Teacher and Tutor в Иврит

Shira Plotnik Caspi

Shiri Gabriel
York University

Gloria Matias
Saint paul university tuguegarao

Richard Birfer
Certified Personal Trainer в In Home Trainer

Женя Селицер
Торонто

Aviram Yedidya

Avi Zaharov
Seneca

Andrey Wool
No13 BEHS Mandalay

Ilia Kanevsky
R&D Engineer в Getsat

Tomer Salamon
מכללה למנהל ראשל"צ

Andrew Swaine
Television Host (TV Host) в MAtv Montréal

Hristina Dojčinova

Jack Konshin
Торонто

Deon Schaffer
Сан-Диего

Anna Schneider
Hewlett-Packard

Bhavin Popat
Commercial Account Manager в RBC

Yoram Weinreich

Tatiana Babich
Bar-Ilan University

Artem Arinkin
Real estate broker в Upperside Real Estate

Maty Yeminy
Owner, Professional Engineer в Vital Solutions Inc

Yechiel Lamesh
Ашдод

Mor Zak
Manager в TactiClicks

אילנית הורביץ
Работает в ‎הכשרה חברה לביטוח‎

Haim Ohayon
אורים, קריית טבעון

Miky Meir Ben Nun

Martin Charney
Owner founder в Home to Own (H2O)

Gani Stavinsky

Noa Gradovitch
Работает в IBM

Gershon Glik
עמל ב

Anat Spalter
Hadarim High School

Tomer Yekutiel
Работает в Tomer Yekutiel Photography

Josefh Polak
Работает в ‎Next Generation to Holocaust&Heroism-עמותת דורות ההמשך‎

Rotem Hurvitz
Financial Advisor в Yael Group

Mihaly Bacso

Naomi Adler
Ceo founder and business development manager в Loyalty Teams

Ori Badichi
Работает в ‎בורסת היהלומים הישראלית‎

Revital Arush Goldwaser
Ариэль (город)

Dana Shamir Lev

Rachel Spivak
פנימיית נחלת יהודה

Ilan Ifraimov

Kiran Sandhu
Торонто

Ron Daniel
Тель-Авив

Idan Levy
Producer в ‎חמש בערב עם רפי רשף‎

Alon Barmapov
York University

Vladimir Davidov
Tel Aviv University | אוניברסיטת תל-אביב

Isaac Ashurov
Thornhill, Ontario

שלי לוי רוקח
Рамат-Ган

Mickey Weizmann
Advisor в Spygram

Vadim Rashkovan
Нью-Йорк

Eyal Halimi
עירוני ט

Sharon Bar

Jeff Cohen
Project manager в Loblaw Companies Limited

Ирина Ириса
Собственность в Cabañas Cerro Azul

Erez HaCohen
York University

Iryna Vorobyova
Odessa National Maritime Academy (ONMA / ОНМА)

Vladimir Krupnikov
Торонто

Abdul Sattar
Moscowski Fizichiskii Engneernii Institut

Danny Fixler
Hogwarts School Of Witchcraft And Wizardry

Meital Hoshmand Halimi
Фасилитатор в ‎מכון אדלר | Adler Institute‎

Yakov Aks
Chief Executive Officer в ASAP Lab

Gil Ashkenazy
Предпринимательство в Marketing Innovation

Janita Shroitman-Shlepakov

Rick Shaban
Markham District High School

Yossi Arbel
Funder & CEO в Shalom Toronto Israeli Newspaper Inc

Liron Shimoni
Tel Aviv University | אוניברסיטת תל-אביב

Emil Yalizerov
Owner/ President в Party Crew Entertainment

Avi Dinar
Electrician в Mapleleaf Electric Inc

Alex Brodsky
מכללת תל אביב

Tali Yess
Работает в N.Y. Productions

Amir Noam Yehuda
Project Manager, ERP Systems в ‎SHLOMO SIXT קבוצת שלמה‎

Elise Barzakay
Westmount Collegiate Institute

Aharon Keshales
Тель-Авив

Milly Rom
Chiropractor, Acupuncturist and ART Provider в Active Care Health Services

Zizovi Benzi
President (title) в Star Production

Barry Butavia
Торонто

Shlomi Kalimyan
בר אילן, קרית אונו

Ornan Sharaby
Chief Executive Officer в IBMT Tours & Israel Bar Mitzvah Tours

Limor Monina
המסלול האקדמי המכללה למנהל הדף הרשמי

Koby Twena

Ariel Davidov
Thornhill, Ontario

Bin Tradion
Работает в ‎תרדיון משרד עורכי דין‎

Adi Segal-tzdaka
Работает в Segal

Michael Shvey

Isac Lehrer
Собственность в Five Star Movers

Michael Kharlab
Managing Director в CFP Group

Roni Weiser
Tel Aviv University | אוניברסיטת תל-אביב

Sheldon Nicer
2 общих друга

Achiya Badichi Loterman

Gilad Gelfand

Francois Boutet
Деятель искусств в Self-Employed

Evgueni Lapitski
Humber College

Avi Willinger

Aurelia Vizitiu
RMT/Owner, CPMT в Aurora Galaxy Inc., Pediatric, Infant and Adult Massage Therapy

Shimi Mizrahi
אוניברסיטה הפתוחה

Alex Sirenko
Торонто

Liat Badichi
Работает в Perion

Leigh Gleicher Solomon
Работает в LookBookHQ

Moni Ben-dor
Investment Manager в Modus Selective

Maria Alekseeva
Immigration consultant в Maria Alekseeva - Immigration Counsel

Gal Moshe
Работает в ‎כספיט‎

Avi Greizman
Торонто

Adi Weiser
Tel Aviv University | אוניברסיטת תל-אביב

Asaf Halperin
Senior Financial Advisor в Experior Financial Group

DJ Kennedy
CEO & Founder в TechWyse Internet Marketing

אבי עסיס
עירוני ט

נועה הורביץ

Ben Katan
CEO & Founder в Katan Studios

Hali Goldwaser
Ариэль (город)

Alex Rakhmilevitch
CEO в Goldeye Media

Lane Bowers
Winter Haven, Florida

Michal Horovitz

Suzanna Keselman

Guy Levy
Chelmsford College

Yair Yarik Vainshtein

Jean Janot Marcotte
Director в Excellence Photography and Video

Doron Horowitz
Собственность в Self-Employed

Charles Ben
Торонто

Jordan Hurvitz

Sean Cohen

איל בדיחי

Ifat Gal-Cohen
Работает в Connectocar

Mike Anobile

Maria Konshin

Julia Raskin
Торонто

Scott Breard
Гуэлфский университет

Saad Agamia
Alexandria University, Egypt

Moriel Lachovich
אשרת

Ben Abramob
Salon E , hair designer в Self-Employed

Roei Duani
Associate Director в Center for International Communication

Amir Berner
Hebrew University of Jerusalem

Tali Barmapov

Ron Simchon
Research Engineer в San Diego semiconductors LTD

Liron Cohen

Liraz Arosh

Shlomo Banon
Director в Chabad Universite de Montreal

Sarit Belahov

Rinat Avital
מכללת תל אביב

Avi Cohen
עירוני ט

Shalom Hatuka

Roi Bak
Бангкок

ענבר פרייס
‎הידרותרפיסטית‎ в ‎קאנטרי רמת גן‎

Chanie Hildeshaim
Работает в Chabad Thornhill Woods

Guy Band
אוניברסיטת בר אילן

אייל פלוס
‎עצמאי‎ в ‎S.O.L התקנות‎

רומית דביר ראובני

Tal Asraf
עירוני ט

Sima Cohen- Wachsman
Работает в One1Up

Eran Ben Eliyahu

Moshe Besso
עירוני ט

Maayan Linav

Oshik Komary
Университет имени Бен-Гуриона

Oleg Chekhter
Торонто

Guy Muzafi
עירוני ט

לימור שוייצר קטן
אוניברסיטת בן גוריון בנגב

Danilo Fredericks
Colegio San José la Salle

Keren Dagan
Работает в ‎מרצה לעבודה סוציאלית באוניברסיטת אריאל‎

Vlad Greene
Riga Marine College

Avi Elei

Golan Yakoby
‎מנהל מכירות‎ в ‎Partner פרטנר‎

Omry Farajun
Thornlea Secondary School

Oren Butbul

Alexander Shekaroff
Partner в ITW Consulting Corp.

Alisa Kof
Humber College Institute of Technology & Advanced Learning

Joel Padilla
SEO Specialist в Mrkt360

Radiostar Phono
Тель-Авив

Moshe Ben David

Yair Movdat

Keren Noam Hacohen
Работает в Self-Employed

Nir Heler

Danny Revi

Irit Koubi
Работает в Johnson & Johnson

Elena Gordon
Работает в Just Energy

Yohel Villarreal

Daniel Benartzi

Uri Cohen
Amal Lady Davis High School

Hila Badichi Duani

Moshe Nadia Ben Meir

Gabi Paltiel
ויצו צרפת

Alex Saxon
Maple, Ontario

הילה דיין

Farrah Yunus
In House Mortgage Broker at Remax Condos Plus в Mortgage Centre Canada

Shelly Agami
Собственность в Makemeup.co.il

Azriel Saffran
Rabbinical college of Canada

Israel Shapiro
Tel Aviv University | אוניברסיטת תל-אביב

Marat Rabinovich
Director of Operations в Canada's Restoration Services

Sheron Shabtay Zvili
Gimnasia herzelia

Leah Kravitz
Учитель в J.Roots Supplementary Hebrew School

Elad Shaltiel
‎מהנדס מערכות ומבנה עליון‎ в ‎רכבת ישראל‎

Orli Weiser
Dba в ‎האוניברסיטה הפתוחה‎

Taymoor Tahir

יעקב שגיא
רוזוולט בית שאן

Aitan Beznos
Торонто

Yael Shani Feinstein
Университет имени Бен-Гуриона

Igal Hecht
Director/Producer в Chutzpa Productions Inc

Raz Rabin

Sergei Vaisman
Торонто

Alex Kanevsky
2 общих друга

Ronen Albeg
Regional Finance Manager (CEU) в Reckitt Benckiser

Lee Chen
CEO Of Steam TO clean в STEAM to CLEAN

Mark Bekman
Sales Person в Supperior Realty Point Inc

Виктор Каневский

Mickey Lewin
Owner - The Ultimate Sound Productions в The Ultimate Sound Productions

Hani Chernovilsky
‎עורך דין‎ в ‎עו"ד חני צרנובילסקי • נדל"ן • דיני מקרקעין • ליווי מכירה קניה • נכס • דירה‎

Dekel Kidar
Работает в Checkmarx

Ying Ying Ma
Ocean University of China

Nikolai Bratkovski
2 общих друга

Adva Feldman Heler
Seneca

Eitan Braverman
Founder в Take A Sec

Rob Barber
Оттава

Michael Yosher
Mortgage Advisor в CIBC

Shmuel Berkowitz

Esti Naim Butbul
Собственность в Xpress Locksmith

Eddie Mints
President (title) в Mints Dental Design inc.

Sharon Golomb
College of Management

זיו רשף
Amal Bet High School

Eddy Nachabé
Монреаль

Daniel Tichonov
Фредериктон

Yaffa Gilkarov Rabkin
Торонто

Tomer Ash
Co-Founder and Director в Marketing Innovation

Oz Aspir
Рамат-Ган

Danny Levy
C.E.O. в Game Changers Media INC

Omri Horvitz

Armand Soberano
Westview Centennial Secondary School

Moshe Kaikov
Работает в Self-Employed

Salvador Gomez
Работает в Publicidad en Buscadores

Yulia Lozovskaya
Siemens

Ronen Ben Aaron
Techni haifa

Avihai Halaf
‎סמנכ"ל תפעול‎ в ‎אקזיט מערכות ניהול ויזמות בע"מ‎

Anita Herazo
UMECIT

Oleg Lezerav

Eugene Netanel
York University

Tova Hovich

Chanan Ziderman
‎הקמה, פיתוח ותפעול מערכי פיתוח משאבים וגיוס תרומות לעמותות‎ в ‎חנן זיידרמן בע"מ‎

Ilona Samoilovitch
Работает в The Israel cotton production & Marketing board

Jassim Amiri
Торонто

Orly Meyer
Co-Owner в AM Studio Lighting

Mathieu Chevalier
Vidéaste в Mathieu Chevalier - Le vidéaste social

Viatcheslav Kondratiev

Леонид Биргер
Owner-operator в Self-Employed

Meir Osipov

Meir Sasi
Торонто

Igor Hovich

Joseph Fackenheim
Работает в Актёр

Vlad Miropolsky
Работает в Michael G DeGroote School of Medicine, McMaster University

Sharon Rubinshtein

Cohen Hila
תיכון עירוני ט'

Yakov Akselrod
Работает в ‎ASAP Lab - המעבדה המקצועית לתיקון מחשבים ניידים‎

Izzy Ein Dor
Fairleigh Dickinson University

Avremi Sarale Zaltzman
Ричмонд-Хилл

Soma Nath Roy
Business Developer в Content Lab India

Elad Kojocaru
VP Marketing в Viber

Andrei Medvedev

Hy Bergel

Joel Padilla
Торонто

Yisroel Fridman

Alexander Emelianov
Торонто

Yakov Brezner

Nadia Kanevsky
Московский государственный технологический университет «Станкин»

Zimerman Yakov
Orsk,pedagogical institute

Alex Ulnik
Hardware Test Development Specialist в Thales Canada, Transportation Solutions

TalTal Regev
Tel Aviv University | אוניברסיטת תל-אביב

Viktoria Getmansky
מקיף ה' אשדוד

Avi Levy
Founder (company) в Ticket 911

Itzik Lehrer
Собственность в Five Star Movers WI Inc.

רינת כהן

Sharon Bider
‎מנכ"ל‎ в Kyd Studios

Avraham Simhon

Joel Sandaluk

Zelnik Roni

Avi Greizman
Работает в Self-Employed

Chuan Chee
President/Owner в Toronto Dance Inc.

Mark Greenberg
Physician and Owner в Shoreham Medical Clinic

Avi Bitterman

Mike Elmalem
Director of Business Development - Caribbean в Affinity Global

Anna Geva
Platinum Regional Vice President в ACN Inc.

Amir Cohen
Realtor в Sutton Group-Admiral Realty Inc., Brokerage

Ryan Judd
Торонто

Natali Dahan
Instituto Alberto Einstein

Iris Raif

Shay Sekler
Ort milton

Ayal Cohen
Insurance Agent, Mutual Fund Advisor в Goldstein Financial Consultants

Rene Veilleux
Senior Managing Partner & Consultant в Rene Veilleux International

Виктор Каневский

Isaac Dekalo
Собственность в Orli Diamonds

Aurelia Chintea Vizitiu
Owner RMT, CPMT в Aurora Galaxy Inc., Pediatric, Infant and Adult Massage Therapy

John Assaad
University of Toronto

Felix Nevo
M. Sharet

Oleg Shtivelman
Вон (Онтарио)

ענבר לוי
המכללה האקדמית בית ברל

Joel Bradbury
Business Services Sales Representative в Myflooring.to

Nagi Girguis

Avi Strulson
Founder and Owner в Playback Pictures

Sherry Zhang
ShenZhen University (SZU)

Joseph Petranker
Финансовый директор в Self-Employed

Pablo Grabow
General manager в Aroma Fresh

Dana Pascal

Malvina Beker Kiperman
York University

Guy Peleg
Handesaim

Dalia Gleicher
Торонто

Natalie Walden Kalderon
Работает в UJA Centre for Jewish Education

Chris Lloyd
Работает в Self-Employed

Elena Nikon
Работает в Dance Mania DanceSport Studio

Limor Bar-Tal
Managing Director в YACHTBiT // Gulet & Yacht Charters

Galit Weig

דורון שרעבי
אורט

Kaleem Khan

Mira Glinauer
Financial adviser в IFCG - Independent Financial Consulting Group

Keren Cochavi
Тель-Авив

Ronen Ben Aaron
Работает в BA Consulting Inc

Egor Ovsichtcher
Торонто

Moshe Gamliel
המכללה למנהל

Dino Gaspari

Arik Hasson
Owner-operator Ultimate Fixx Ltd в Self-Employed

Fernando Taboada
Работает в A's Intl Sales

Marcelo Benevet

Tri State Stone NJ
Fairfield, New Jersey

Marina Kushmar
Работает в Anytime Fitness Vaughan

Assaf Bar-Tal
Co Owner в ARTBiT // BARTAL-ART-Marketing

Dmitry Gordon
Senior Specialized Developer в BMO Financial Group

Ishay Erez
Торонто

Claudi Gruss-Foorer
Работает в Self-Employed

Mishka

Eldar Eldi Biniamini
Вон (Онтарио)

Richard Yagutilov
Photographer/Filmmaker в YouGottaLove.com

Helit Baruch Sharon
Harvard University

Sivan Ben Hammo
Работает в Cellcom

Yaniv Kalderon

Dikla Ender-Fox
Собственность в ‎נוירופידבק ואימון קוגניטיבי - ד"ר דקלה אנדר פוקס‎

Shiri Amouyal Golomb
Newtonbrook Secondary School

Yigal Rifkind
Osgoode Hall Law School

Miri Levy

Liliya Saxon
Ambassador в ORLY

Boris Yosefi
Unseen University

Zeev D
Торонто

Lisita Shemesh
מכללת דוד ילין ירושלים

Ravid Dahan

Gary Lipovetsky

Anna Naryzhny
Seneca

Gila Martow
Member of Provincial Parliament for Thornhill в Законодательное собрание Онтарио

Valentina Kaganovich

Maayan Grinshpan

Eran Turgeman
Зихрон-Яаков

Meital Tietz Chashper
Торонто

Konstantin Toubis
Торонто

Yuri Sapozhnikov

Michael Shramban
NYU

Shay Attias
Bar-Ilan University

Kristina N.
Торонто

Eli Yakobov
Торонто

Boris Braf

Yoseph Zaltzman

Vladimir Bekker
Artistic director в CONCORDPHOTO.COM

Inna Sapozhnikov
Работает в Cpanama.com Real Estate

מנחם עסיס
Ono Academic College

Alon Azulay

Eitan Abugov
College of Management Academic Studies

Yossi Arbel
Торонто

Lior Cabessa
Торонто

Nir Elgrassi

Jeremy Suchall

Ben Badichi
Rothberg High school

Shirley Geiman Mazer

Ravit Revital

Avraham Simhon

Ariel Zaltzman
Работает в Congregation Darchei Noam

Elmira Abushayeva

Eran Gevantschniter

עידן אלפיים
Работает в Edan 2000

Irit Bochnik
Торонто

שובל בדיחי
Оранит

Shimi Azaria

Joesph Twena
Ono Academic College

אייל פלוס

Erez Tamir
Работает в "Forest Hill Real Estate Inc., Brokerage"

Gal Frenkel
Owner-operator в Steps Window Cleaning

Boaz Revivo

Dali Pinchev
Работает в ‎בנק לאומי‎

Ron Fux
Рамат-Ган

זאב קוזוקרו
Marketing management в ‎דורון‎

Michelle Bendayan Salik
Нетания

Shai Shuvi
Университет имени Бен-Гуриона

Yaniv Shahar
‎שותף‎ в ‎רשת חקירות - Private Investigation Agency‎

Dev Brahmbhatt
Барри (Онтарио)

Carlos Alfonso Hassan Olarte
Colegio De La Salle

Tomer Golomb
Работает в SPP Canada Aircraft, Inc

Or Simchon
Tel Aviv University | אוניברסיטת תל-אביב

Noam Sharabany

Israel Weissman

Riki Simchon
‎מחנכת‎ в ‎משרד החינוך‎

Csa Israel

Art Krylov
Mortgage Agent в Toronto Mortgages

ירון שמאי
‎עורך תוכן‎ в ‎לגדול- www.ligdol.co.il‎

Sanjay Shah
Торонто

Paul Litwack
Certified Bartender в BartenderOne

Jack Louis
Sales Executive в Wisdek

Leon Belahov
Работает в Econo Bins

ליאת חלף

Yaron Mendel
International Institute of Travel and Tourism

Gil Simchon
Работает в U.S. Embassy Tel Aviv, Israel

אריאלה מיכאלי

Elik Jaeger
Торонто

Mino Boch
University of Tel Aviv

Talli Berger

רויטל צוקרמן

Achiya Badichi Loterman

Слободницкий Артур
VP Marketing в Ioniverse

Nava Halfon
Tel Aviv University | אוניברסיטת תל-אביב

Daphna Tsur

דני ודגנית פסח

Shira Vardi

Nathan Sheva
Bar-Ilan University

Doron Bass

Shlomo Glick
המכללה הישראלית לביטחון וחקירות

Amit Mor
אוניברסיטת בר-אילן

Seasuites Tel Aviv
CEO в Sea Suites

גרשון גליק

יריב וינצר
‎עורך דין‎ в ‎עסק עצמאי‎

מיכל וינצר

Assaf Cohen
Giv`At Shmuel, Hamerkaz, Israel

Azriel Saffran

עופר יחזקאל
Работает в ‎סימטרון‎

Danny Shirazi

רונית תירוש
‎‏מרצה בכיר‏ה -מדיניות החינוך‎ в ‎המרכז הבינתחומי הרצליה - IDC Herzliya‎

Levi Jacobson
UWO

Moti Berkovitz
Работает в ‎אל על‎

Noam Badichi

רון גליק

Tsipi Glik-Golofast

Vasile Mosac
Manager в Prepaid Miami

Aya Eliav Rubinovitz

Oleg Chernyakhovsky
Broker в Remax

אדם וינצר
‎כפר קאסם‎ в ‎וינצר משרד עורכי דין‎

אקזיט מערכות ניהול
Работает в ‎אקזיט מערכות ניהול ויזמות בע"מ‎

עמית דביר עוד מקרקעין
Тель-Авив

Liat Zvuloni Shwartz
‎פקידת הנהלת חשבונות בחברה של בעלי‎ в Rm zvuloni diamond and jewelry

Yifat Schwartz

Limor Schweitzer Katan
Университет имени Бен-Гуриона

Efrat Shapira
Работает в ‎מרכז רפואי מאיר‎

ישראל ויסמן

Oren Zusman
Работает в ‎יועץ ארגוני‎

Galit Nir
Торонто

Hagar Cohen
CMU College of Makeup Art & Design

Tali Nir

Gutman Scharf

Adir Atias
Amdocs

Nirit Cohen-betesh
Bar-Ilan University

שמעון ימיני
Temple University

Amir Adamski
Тель-Авив

Ram Gurshumov
Торонто

עינבל כהן מזרחי
‎יועצת שינה לתינוקות ופעוטות‎ в Self-Employed

Ran Glycher

Einav Harel Moshe
Ort Ebin

Leo Dee

Jonathan Yeminy

Orit Badichi

Ran Itay
PhD student в Weizmann Institute of Science

Tzvika Respler

Kidma Levy Bar
Работает в Merck Serono

Or Adamski

Yaffa Badichi
עירוני א

Max Yatsenko
Фотограф в BusinessHeadshot.ca

Elyossef Buchnick

Shmulik Feiner
Тель-Авив

Yogev Rozen

Jim Rush

Vered Isenberg
Торонто

Amit Wellner
Development Lead в NaviNet

Nir Meir
Иерусалим

Keren Levy
Owner в Self-Employed

Lior Kashani Ligumsky
Работает в Maayanei Hayeshua

Idan Levy
‎מתמחה‎ в ‎עזר מבורך ושות' עורכי דין.‎

Tomer Bass

Erez Yekutiel
Ono Academic College

Avi Hazut
Тель-Авив

Nina Barsegiants
Alexander Mackenzie High School

Tal Weiser
Работает в Foris Telecom

Idan Rozen
האוניברסיטה של החיים

Keren Segal-Fox
IDC Herzliya

Erez Rozen

Clara Gutman Gelb
Universidad de Palermo

Josh Gleicher
University of Toronto

Alon Yekutiel

Yossi Havusha
Ванкувер

Boaz Horvitz
Работает в Self-Employed

Ron Glik
Тель-Авив

Adva Glik

Inbal Shkolnik

מירב הלפרין
York University

Zofit Bercovitz Weiss
עמל נהריה

Dana Yeminy-Soto
Yoga Instructor в Yoga Teacher

Maya Perez
Thornhill, Ontario
Facebook friends
https://www.facebook.com/zeev.cozocaru
https://www.facebook.com/alexbider
https://www.facebook.com/elena.serebryany
https://www.facebook.com/kari.gleicher
https://www.facebook.com/sharon.kyd
https://www.facebook.com/dror.gik.7
https://www.facebook.com/haim.goldenberg
https://www.facebook.com/gikofir
https://www.facebook.com/udi.hurvitz
https://www.facebook.com/profile.php
https://www.facebook.com/meir.osipov
https://www.facebook.com/yoav23
https://www.facebook.com/jeffcohen1
https://www.facebook.com/katya.hurvitz
https://www.facebook.com/rachella.ivri
https://www.facebook.com/joe.ontman
https://www.facebook.com/guidy.mamann
https://www.facebook.com/etay.zur
https://www.facebook.com/chot89
https://www.facebook.com/schneider.ellie
https://www.facebook.com/chaim.hildeshaim
https://www.facebook.com/tamara.aminov.1
https://www.facebook.com/henryvhua
https://www.facebook.com/pascalflamand
https://www.facebook.com/zvika.rahmilov
https://www.facebook.com/Anan.Habka
https://www.facebook.com/chaimon.blum
https://www.facebook.com/ziv.reshef
https://www.facebook.com/marksoer
https://www.facebook.com/www.orit
https://www.facebook.com/eyal.badichi
https://www.facebook.com/talia.friedman.1
https://www.facebook.com/oferhu
https://www.facebook.com/darren.gradus
https://www.facebook.com/ehud.telem
https://www.facebook.com/Kirill.Kanevsky
https://www.facebook.com/joshmschneider
https://www.facebook.com/ohad.horvitz
https://www.facebook.com/dazbel
https://www.facebook.com/marianna.kogan.1
https://www.facebook.com/hurvitz.shy
https://www.facebook.com/sima.ifraimov
https://www.facebook.com/yuval.lambert
https://www.facebook.com/shahaf.merhav
https://www.facebook.com/lucas.giraldo101
https://www.facebook.com/arik.lee1
https://www.facebook.com/mehdi.kazemian
https://www.facebook.com/eitan.rachlis.3
https://www.facebook.com/odelya.h.shimoni
https://www.facebook.com/russlan.chalmiev
https://www.facebook.com/dror.panhi
https://www.facebook.com/rusnell
https://www.facebook.com/anna.curlatrozenberg
https://www.facebook.com/adudarev
https://www.facebook.com/YANASCH
https://www.facebook.com/milky.faruq
https://www.facebook.com/ronit.warger
https://www.facebook.com/RonBiner
https://www.facebook.com/rom.koubi
https://www.facebook.com/danalapidot
https://www.facebook.com/moshe.revach.7
https://www.facebook.com/sunny.ashurov
https://www.facebook.com/lior.cohen.5095
https://www.facebook.com/david.zaltzman
https://www.facebook.com/marselius
https://www.facebook.com/olga.kanevsky.18
https://www.facebook.com/tatiana.dudyez
https://www.facebook.com/valerie.dalal
https://www.facebook.com/adiyosepov
https://www.facebook.com/indexwm
https://www.facebook.com/igor.keselman.5
https://www.facebook.com/AviKedem
https://www.facebook.com/vadim.zakarev
https://www.facebook.com/erez.zevulunov
https://www.facebook.com/yuval.harpaz.33
https://www.facebook.com/ekaterina.vendrova
https://www.facebook.com/Shira.Oshrat.Schaffer
https://www.facebook.com/shira.plotnik.3
https://www.facebook.com/shiri.gabriel
https://www.facebook.com/gloria.matias.92
https://www.facebook.com/richard.birfer
https://www.facebook.com/evgeny.selitser
https://www.facebook.com/aviram.yedidya
https://www.facebook.com/avi.zaharov
https://www.facebook.com/andrey.wool
https://www.facebook.com/ilia.kanevsky
https://www.facebook.com/tomer.salamon.3
https://www.facebook.com/AndrewKingSwaine
https://www.facebook.com/hdojcinova
https://www.facebook.com/jack.konshin
https://www.facebook.com/deons
https://www.facebook.com/anna.schneider.39566
https://www.facebook.com/bhavin.popat.79
https://www.facebook.com/yweinreich
https://www.facebook.com/maty.yeminy
https://www.facebook.com/yechiel.lamesh
https://www.facebook.com/mor.zak.35
https://www.facebook.com/haim.ohayon.161
https://www.facebook.com/miky.bennun
https://www.facebook.com/martin.charney.3
https://www.facebook.com/gani.stavinsky.12
https://www.facebook.com/noahgrad
https://www.facebook.com/gershon.glik
https://www.facebook.com/anat.spalter
https://www.facebook.com/tyekutiel
https://www.facebook.com/joesi54
https://www.facebook.com/rotem.hurvitz
https://www.facebook.com/mihaly.bacso.1
https://www.facebook.com/socialbeemarketingca
https://www.facebook.com/ori.badichi
https://www.facebook.com/revital.arushgoldwaser
https://www.facebook.com/dslev
https://www.facebook.com/rachel.spivak.7
https://www.facebook.com/ilan.ifraimov
https://www.facebook.com/kiran.sandhu.54
https://www.facebook.com/ron.r.daniel
https://www.facebook.com/idan.levy.127
https://www.facebook.com/alon.barmapov
https://www.facebook.com/vladimir.davidov
https://www.facebook.com/isaacashurov247
https://www.facebook.com/mickey.weizmann
https://www.facebook.com/vrashkovan
https://www.facebook.com/eyalhalimi
https://www.facebook.com/sharon.bar.79
https://www.facebook.com/Maverick007jc
https://www.facebook.com/irina.irisa.9
https://www.facebook.com/erez.hacohen
https://www.facebook.com/iryna.vorobyova.10
https://www.facebook.com/vladimir.krupnikov
https://www.facebook.com/sattaractor
https://www.facebook.com/fixlerd
https://www.facebook.com/meitalhoshmand
https://www.facebook.com/yakov.aksel
https://www.facebook.com/gil.ashkenazy
https://www.facebook.com/janita.shroitmanshlepakov
https://www.facebook.com/rick.shaban.5
https://www.facebook.com/yossi.arbel.31
https://www.facebook.com/liron.shimoni.3
https://www.facebook.com/emil.yalizerov
https://www.facebook.com/avdinar
https://www.facebook.com/abrodsky3
https://www.facebook.com/taliyess
https://www.facebook.com/amir.n.yehuda
https://www.facebook.com/elise.barzakay
https://www.facebook.com/aharon.keshales
https://www.facebook.com/milly.rom.7
https://www.facebook.com/benzi.zizovi
https://www.facebook.com/butaviabarry
https://www.facebook.com/shlomi.kalimyan
https://www.facebook.com/ornan.sharaby
https://www.facebook.com/ktwena
https://www.facebook.com/ArielDavidovv
https://www.facebook.com/bin.tradion
https://www.facebook.com/adi.segaltzdaka
https://www.facebook.com/michael.shvey
https://www.facebook.com/isac.lehrer
https://www.facebook.com/michael.kharlab
https://www.facebook.com/roni.weiser
https://www.facebook.com/sheldon.nicer
https://www.facebook.com/achiya.badichiloterman
https://www.facebook.com/gilad.gelfand
https://www.facebook.com/franfoustudio
https://www.facebook.com/lapitski
https://www.facebook.com/avi.willinger
https://www.facebook.com/shimi.mizrahi.50
https://www.facebook.com/Sasha.Sirenko
https://www.facebook.com/liat.badichi
https://www.facebook.com/leigh.g.solomon
https://www.facebook.com/moni.bendor
https://www.facebook.com/masha.myryam
https://www.facebook.com/einavgal
https://www.facebook.com/avi.greizman
https://www.facebook.com/adi.weiser.18
https://www.facebook.com/IamExperior
https://www.facebook.com/thedeej
https://www.facebook.com/ben.katanphotography
https://www.facebook.com/goldwaser
https://www.facebook.com/alex.rakhmilevitch
https://www.facebook.com/lanedawgbowers
https://www.facebook.com/michal.horovitz.7
https://www.facebook.com/suzanna.keselman
https://www.facebook.com/guy.levy.908
https://www.facebook.com/yarik.vainshtein
https://www.facebook.com/jean.marcotte
https://www.facebook.com/doron.horowitz.12
https://www.facebook.com/Admin.Chuck
https://www.facebook.com/jordan.hurvitz
https://www.facebook.com/sean.cohen.3
https://www.facebook.com/ifat.galcohen
https://www.facebook.com/mike.anobile.9
https://www.facebook.com/maria.konshin
https://www.facebook.com/julia.raskin.5
https://www.facebook.com/moriel.lachovich
https://www.facebook.com/ben.abramob
https://www.facebook.com/RoeiDuani
https://www.facebook.com/amir.berner
https://www.facebook.com/tali.barmapov
https://www.facebook.com/ron.simchon
https://www.facebook.com/cohenliron
https://www.facebook.com/liraz.arosh
https://www.facebook.com/shlomo.banon
https://www.facebook.com/belahov.sara
https://www.facebook.com/rinatavt
https://www.facebook.com/avi.cohen.7505
https://www.facebook.com/shalom.hatuka
https://www.facebook.com/roi.bak.5
https://www.facebook.com/chanie.hildeshaim
https://www.facebook.com/guy.band.7
https://www.facebook.com/orinlir
https://www.facebook.com/tal.asraf.39
https://www.facebook.com/sima.wachsman
https://www.facebook.com/eran.b.eliyahu
https://www.facebook.com/moshe.besso
https://www.facebook.com/maayan.linav
https://www.facebook.com/oshik.komary
https://www.facebook.com/oleg.chekhter
https://www.facebook.com/guy.muzafi
https://www.facebook.com/danilo.fredericks
https://www.facebook.com/keren.s.dagan
https://www.facebook.com/vlad.greene
https://www.facebook.com/golan.yakoby
https://www.facebook.com/omry.farajun
https://www.facebook.com/oren.butbul
https://www.facebook.com/ashekaroff
https://www.facebook.com/alisa.kof
https://www.facebook.com/joelpadilla07
https://www.facebook.com/moshe.b.david
https://www.facebook.com/YAIR.MOVDAT
https://www.facebook.com/keren.n.hacohen
https://www.facebook.com/nir.heler
https://www.facebook.com/danny.revizada
https://www.facebook.com/irit.koubi
https://www.facebook.com/elena.gordon.581
https://www.facebook.com/redfireb15
https://www.facebook.com/daniel.benartzi
https://www.facebook.com/uricohen911
https://www.facebook.com/hila.badichi
https://www.facebook.com/mbenmeir
https://www.facebook.com/gabi.paltiel
https://www.facebook.com/multilexus
https://www.facebook.com/farrah.yunus.5
https://www.facebook.com/shelly.agami
https://www.facebook.com/got.aces
https://www.facebook.com/israel.shapiro.3
https://www.facebook.com/marat.rabinovich
https://www.facebook.com/leah.kravitz
https://www.facebook.com/elad.shaltiel
https://www.facebook.com/orli.weiserpanhi
https://www.facebook.com/tvict
https://www.facebook.com/sagi.ja
https://www.facebook.com/aitan.b
https://www.facebook.com/yael.shanifeinstein
https://www.facebook.com/igal.hecht
https://www.facebook.com/raz.rabin
https://www.facebook.com/sergei.vaisman
https://www.facebook.com/alex.kanevsky.7
https://www.facebook.com/ronen.albeg
https://www.facebook.com/lee.chen.9212
https://www.facebook.com/mark.bekman
https://www.facebook.com/mickey.lewin.3
https://www.facebook.com/hani.chernovilskymatyas
https://www.facebook.com/dekelkidar
https://www.facebook.com/yingying.ma.5
https://www.facebook.com/nikolaib
https://www.facebook.com/adva.heler
https://www.facebook.com/eitan.braverman
https://www.facebook.com/RobBarber7
https://www.facebook.com/michael.yosher
https://www.facebook.com/shmuel.berkowitz
https://www.facebook.com/esti.naimbutbul
https://www.facebook.com/emints
https://www.facebook.com/sharon.golomb
https://www.facebook.com/eddy.nachabe
https://www.facebook.com/daniel.tichonov
https://www.facebook.com/yaffarabkin
https://www.facebook.com/tomer.ash.9
https://www.facebook.com/oz.aspir.5
https://www.facebook.com/yd.levy
https://www.facebook.com/omri.horvitz
https://www.facebook.com/armand.soberano.3
https://www.facebook.com/moshe.kaikov.7
https://www.facebook.com/salvadorchs
https://www.facebook.com/julia.brezner
https://www.facebook.com/rba72
https://www.facebook.com/avihaihalaf
https://www.facebook.com/ana.herazo1
https://www.facebook.com/oleg.lezerav
https://www.facebook.com/eugene.netanel.1
https://www.facebook.com/chanan.ziderman
https://www.facebook.com/ilona.samoilovitch
https://www.facebook.com/TAMDEC
https://www.facebook.com/orly.meyer
https://www.facebook.com/mathieulchevalier
https://www.facebook.com/leonid.birger.9
https://www.facebook.com/meir.osipov.1959
https://www.facebook.com/meir.sasi
https://www.facebook.com/igor.hovich
https://www.facebook.com/joseph.fackenheim
https://www.facebook.com/vlad.miropolsky
https://www.facebook.com/sharon.rubinshtein.3
https://www.facebook.com/cohen.hila.3
https://www.facebook.com/yakov.akselrod
https://www.facebook.com/izzyed
https://www.facebook.com/jrcc.richmondhill
https://www.facebook.com/soma.nath.545
https://www.facebook.com/eladkojo
https://www.facebook.com/andrei.medvedev.18
https://www.facebook.com/hy.bergel
https://www.facebook.com/JoelJadillaTorontoSeoExpert
https://www.facebook.com/aeemelianov
https://www.facebook.com/yakov.brezner
https://www.facebook.com/zimerman.yakov
https://www.facebook.com/alex.ulnik
https://www.facebook.com/tal.regev.39
https://www.facebook.com/viktoria.getmansky
https://www.facebook.com/avi.levy.ca
https://www.facebook.com/ilehrer
https://www.facebook.com/bidernet.media
https://www.facebook.com/joel.sandaluk
https://www.facebook.com/zelnik.roni
https://www.facebook.com/avi.greizman.77
https://www.facebook.com/chuan.chee
https://www.facebook.com/mark.greenberg.336
https://www.facebook.com/abitterman99
https://www.facebook.com/Elmalem.Mike
https://www.facebook.com/annageva
https://www.facebook.com/amir.cohen.140
https://www.facebook.com/ryan.judd.96
https://www.facebook.com/natali.dahan.12
https://www.facebook.com/iris.raif.1
https://www.facebook.com/shay.sekler.3
https://www.facebook.com/ayal.cohen.7
https://www.facebook.com/rene.veilleux.intl
https://www.facebook.com/isaac.dekalo
https://www.facebook.com/aurelia.vizitiu.5
https://www.facebook.com/john.assaad.5
https://www.facebook.com/felix.nevo
https://www.facebook.com/oleg.shtivelman
https://www.facebook.com/joel.bradbury.75
https://www.facebook.com/nagi.girguis.9
https://www.facebook.com/avi.strulson.5
https://www.facebook.com/sherry.zhang.718
https://www.facebook.com/yossi.petranker
https://www.facebook.com/pablo.grabow
https://www.facebook.com/dana.pascal
https://www.facebook.com/malvina.bekerkiperman
https://www.facebook.com/guy.peleg.3
https://www.facebook.com/natalie.kalderon
https://www.facebook.com/elena.nikon
https://www.facebook.com/limor.bartal
https://www.facebook.com/galit.weig
https://www.facebook.com/kaleem.khan.9083
https://www.facebook.com/mira.glinauer
https://www.facebook.com/keren.cochavi
https://www.facebook.com/ronen.aaron.7
https://www.facebook.com/EgorOvsichtcher
https://www.facebook.com/moshe.gamliel.77
https://www.facebook.com/pinballd
https://www.facebook.com/arik.hassoun
https://www.facebook.com/fernando.taboada.94
https://www.facebook.com/marcelo.benevet
https://www.facebook.com/tristatestone.nj
https://www.facebook.com/dmitry.gordon
https://www.facebook.com/ishay.erez
https://www.facebook.com/claudi.grussfoorer
https://www.facebook.com/malinsky
https://www.facebook.com/eldar.biniamini
https://www.facebook.com/yougottalove
https://www.facebook.com/helit.b.sharon
https://www.facebook.com/sivan.hammo
https://www.facebook.com/yaniv.kalderon
https://www.facebook.com/dikla.enderfox
https://www.facebook.com/shiri.amouyalgolomb
https://www.facebook.com/yigal.rifkind
https://www.facebook.com/miri.levy.315
https://www.facebook.com/NailArtByLiliya
https://www.facebook.com/boris.yosefi
https://www.facebook.com/zeev.d.9
https://www.facebook.com/lisita.shemesh
https://www.facebook.com/motekproductions
https://www.facebook.com/gary.lipovetsky
https://www.facebook.com/anna.naryzhny
https://www.facebook.com/gilamartow1
https://www.facebook.com/valentina.kaganovich.98
https://www.facebook.com/maayan.grinshpan
https://www.facebook.com/erturgem
https://www.facebook.com/meital.tietzchashper
https://www.facebook.com/konstantin.toubis
https://www.facebook.com/yuri.sapozhnikov
https://www.facebook.com/michael.shramban
https://www.facebook.com/shayattias.diplomacy
https://www.facebook.com/kristinaroma
https://www.facebook.com/eli.yakobov.3
https://www.facebook.com/bbarapp
https://www.facebook.com/yoseph.zaltzman
https://www.facebook.com/vladimir.bekker.5
https://www.facebook.com/inessas
https://www.facebook.com/alon.azulay.7
https://www.facebook.com/eitan.abugov
https://www.facebook.com/ShalomTorontoOnline
https://www.facebook.com/lior.cabessa
https://www.facebook.com/nir.elgrassi
https://www.facebook.com/jeremy.suchall
https://www.facebook.com/ben.badichi
https://www.facebook.com/shirley.mazer
https://www.facebook.com/ravit.abelman
https://www.facebook.com/avraham.simhon
https://www.facebook.com/ariel.zaltzman
https://www.facebook.com/elmira.abushayeva
https://www.facebook.com/eran.gevantschniter
https://www.facebook.com/irit.bochnik
https://www.facebook.com/shovalbadichi
https://www.facebook.com/shibiba
https://www.facebook.com/joesph.twena
https://www.facebook.com/thornhill.homes.3
https://www.facebook.com/gfrenkel5
https://www.facebook.com/boaz.revivo.1
https://www.facebook.com/dali.pinchev
https://www.facebook.com/ron.fux
https://www.facebook.com/a.new.me.1977
https://www.facebook.com/shai.shuvi
https://www.facebook.com/yaniv.inv
https://www.facebook.com/dev.brahmbhatt.5
https://www.facebook.com/panamaspace
https://www.facebook.com/tomer.golomb.3
https://www.facebook.com/simchon
https://www.facebook.com/noam.sharabany
https://www.facebook.com/israel.weissman
https://www.facebook.com/riki.simchon
https://www.facebook.com/csa.israel
https://www.facebook.com/art.krylov
https://www.facebook.com/sanjay.shah.505
https://www.facebook.com/paul.litwack
https://www.facebook.com/jacklouis35
https://www.facebook.com/leon.belahov
https://www.facebook.com/yaron.mendel
https://www.facebook.com/gil.simchon
https://www.facebook.com/mino.boch
https://www.facebook.com/talli.berger.35
https://www.facebook.com/achiya.loterman
https://www.facebook.com/slobodnitsky.arthur
https://www.facebook.com/nava.halfon
https://www.facebook.com/daphna.tsur.9
https://www.facebook.com/shira.vardi.9
https://www.facebook.com/nathan.sheva
https://www.facebook.com/doron.bass.7
https://www.facebook.com/SHLOMOGS56
https://www.facebook.com/amit.mor.359
https://www.facebook.com/seasuites.telaviv.9
https://www.facebook.com/gershon2
https://www.facebook.com/yariv.vinzer
https://www.facebook.com/assaf.cohen.397
https://www.facebook.com/azriel.saffran
https://www.facebook.com/danny.shirazi
https://www.facebook.com/Ronit.Tirosh
https://www.facebook.com/levi.jacobson.100
https://www.facebook.com/moti.berkovitz
https://www.facebook.com/noambadichi3004
https://www.facebook.com/glickenpvc
https://www.facebook.com/tsipiglik2
https://www.facebook.com/vasilemosac
https://www.facebook.com/aya.eliav
https://www.facebook.com/olegchernyak
https://www.facebook.com/exitsys
https://www.facebook.com/liatzvuloni
https://www.facebook.com/yifat.schwartz.1
https://www.facebook.com/limor.katan.5
https://www.facebook.com/efrat.shapira.37
https://www.facebook.com/orenzusman1
https://www.facebook.com/galit.osadtsuk
https://www.facebook.com/makeupstrengh
https://www.facebook.com/tali.nir.3
https://www.facebook.com/gutman.scharf
https://www.facebook.com/adir.atias
https://www.facebook.com/nirit.cohenbetesh
https://www.facebook.com/amir.adamski
https://www.facebook.com/inbal.kohenmizrachi
https://www.facebook.com/ran.glycher.9
https://www.facebook.com/einav.h.moshe
https://www.facebook.com/leo.dee.98
https://www.facebook.com/Oritbadichi
https://www.facebook.com/ran.itay.5
https://www.facebook.com/tzvikar
https://www.facebook.com/kidma.bar
https://www.facebook.com/or.adamski
https://www.facebook.com/yaffa.badichi
https://www.facebook.com/Max.Yatsenko
https://www.facebook.com/elyossef
https://www.facebook.com/shmulik.feiner
https://www.facebook.com/yogevrozen
https://www.facebook.com/Jim.Rush.Man
https://www.facebook.com/vered.isenberg
https://www.facebook.com/awellner
https://www.facebook.com/nir.meir.12
https://www.facebook.com/keren.mifgashim
https://www.facebook.com/lior.kashaniligumsky
https://www.facebook.com/idan.levy.520
https://www.facebook.com/thomasios
https://www.facebook.com/erez.yekutiel.3
https://www.facebook.com/avihazut
https://www.facebook.com/nina.barsegiants
https://www.facebook.com/tal.weiser
https://www.facebook.com/idan.rozen.9
https://www.facebook.com/keren.segalfox
https://www.facebook.com/erez.rozen.1
https://www.facebook.com/clarygutman
https://www.facebook.com/josh.gleicher
https://www.facebook.com/ayekutiel
https://www.facebook.com/yossi.havusha
https://www.facebook.com/boaz.horvitz
https://www.facebook.com/ron.glik
https://www.facebook.com/adva.glik
https://www.facebook.com/inbal.arosh
https://www.facebook.com/zofit.weiss
https://www.facebook.com/dana.yeminy
https://www.facebook.com/maya.perez.315