Profit ofr Alphabet for 2016 increased by 19% to $19.5 billion
Alphabet, which includes Google, announced financial results for the fourth quarter and the year 2016 year as a whole.
At year-end, the total revenue of Google increased by 20.4% and reached $90,27 billion, profit up 19% to $19.5 billion
Google quarterly revenue increased by 22% to $26 billion (98.9% of accounted for Google). The profit of the holding for the quarter increased 8.3% to $5.3 billion.
The revenue of Google for the fourth quarter of 2016 totaled $25.8 billion, increased by 22% in annual comparison. The company's operating profit increased by 17% up to $7.88 billion.
Income from services amounted to $17,97 billion, which is 20% more than the year before. The revenue from the affiliate networks increased by 7% to $4.43 billion
The Google's income from advertising increased by 17% in comparison with IV quarter of 2015 to $22.4 billion
The total number of paid clicks in the fourth quarter of 2016 increased by 36%, in Google - 43% in affiliate networks - 7%.
The total cost per click (CPC) in the fourth quarter declined by 15% in the annual comparison, in Google by 16%, in the affiliate network by 19%.
Costs for the purchase of traffic was $4,848 billion – 22% of the total advertising revenue for Google.
Quarterly revenue from other divisions (Other Bets) was $262 billion, a loss of $1.088 billion.
"Our growth in the fourth quarter was exceptional -- with revenues up 22% year on year and 24% on a constant currency basis. This performance was led by mobile search and YouTube. We're seeing great momentum in Google's newer investment areas and ongoing strong progress in Other Bets," said Ruth Porat, CFO of Alphabet.

After the announcement of financial results of the company's stock price on exchange fell by 2.11 per cent to $838,9 per share.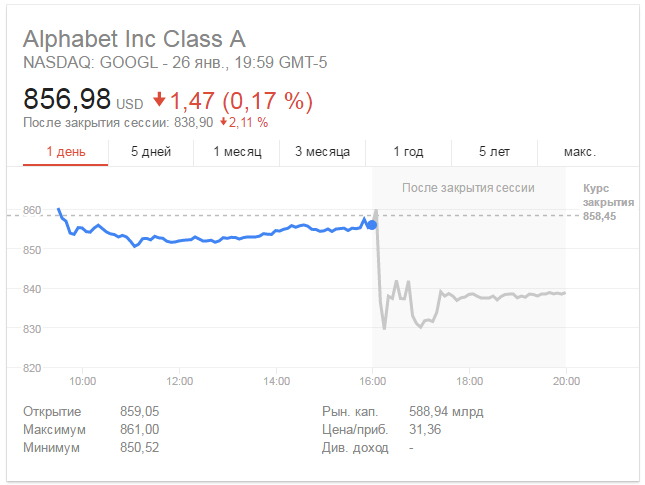 Previously, Google officially became part of the holding Alphabet in October 2015. That the Internet company will undergo large-scale reorganization and will be part of the new holding company, became known in August of the same year. The creation of the Alphabet was intended to make the clear structure of Google, transparent reporting and the business profitable.